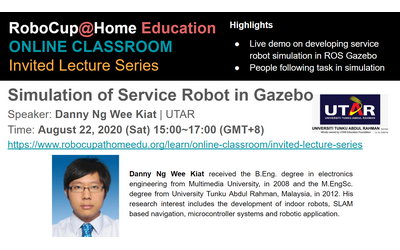 ID: 599
Simulation of Service Robot in Gazebo
Speaker: Danny Ng Wee Kiat | UTAR
Highlights
Live demo on developing service robot simulation in Gazebo.
Creating a robot in Gazebo
Interfacing with sensors and robot using ROS
Creating actor and scenes in Gazebo
Completing follower task in simulation
Open source code
Danny Ng Wee Kiat received the B.Eng. degree in electronics engineering from Multimedia University, in 2008 and the M.EngSc. degree from University Tunku Abdul Rahman, Malaysia, in 2012. His research interest includes the development of indoor robots, SLAM based navigation, microcontroller systems and robotic application.
0.00 average based on 0 ratings