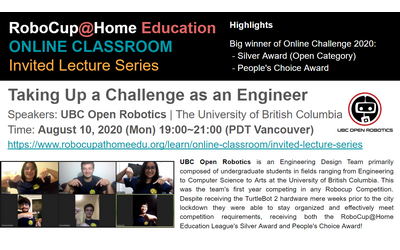 ID: 592
Taking Up a Challenge as an Engineer
Speakers: UBC Open Robotics | The University of British Columbia
Highlights
Double awards winner of RoboCup@Home Education Online Challenge 2020:
Silver Award (Open)
People's Choice Award
@Home Education Participants: Osman Baalbaki, Francisco Farinha, Nick Ioannidis, Simar Sidhu, Clément Thorens, Andrew Xie
Coaches: Pankaj Bagga, Pei Jia
UBC Open Robotics is an Engineering Design Team primarily composed of undergraduate students in fields ranging from Engineering to Computer Science to Arts at the University of British Columbia. This was the team's first year competing in any RoboCup competition. Despite receiving the TurtleBot 2 hardware mere weeks prior to the city lockdown they were able to stay organized and effectively meet competition requirements, receiving both the RoboCup@Home Education League's Silver Award and People's Choice Award!
0.00 average based on 0 ratings